***THIS GIVEAWAY HAS ENDED***
My wife, Layla, and I had the pleasure of photographing a beach house for Flea Market Style magazine last Fall.
As with all of our interior shoots, I'm in charge of snapping the pics, and she's in charge of styling them. The house we shot for this particular issue was located on Tybee Island, Georgia, which is about 7 hours away from where we live, so, we decided to take a "better safe than sorry" approach, and shot a couple different set-ups in each room. That way, our editors had a few different looks to choose from, and we didn't run the risk of not capturing something they could use before we headed back home to Alabama. It's always a fun surprise to see which photos they choose to publish when the magazine comes out! For instance, we shot the fireplace below with two different pieces of art above the mantel…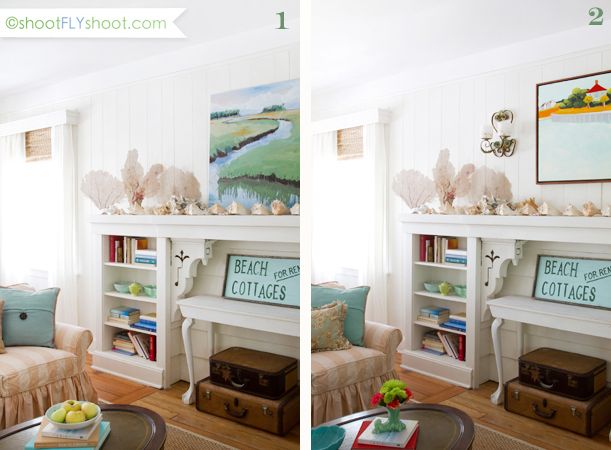 The painting in photo #1 is propped against the mantel, and we left some white space to the left of it, in case the folks at the magazine wanted to insert some text or graphics there.
The painting in photo #2 is hanging on the wall, and we used a pair of the homeowners wall sconces on both sides of it.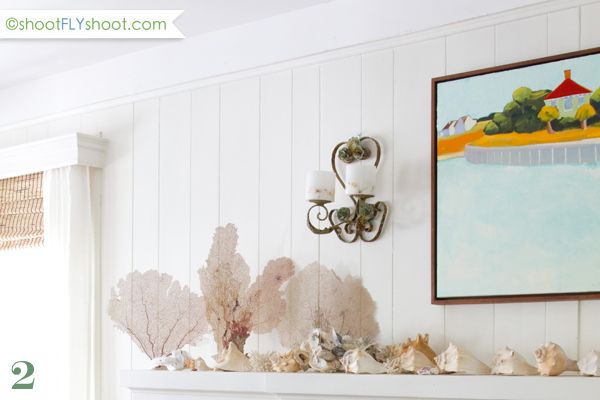 Just for fun, can you guess which photo they published? Leave us a comment with your answer, and we'll randomly select someone tomorrow morning (April 5, 2012) at 9am (CST) to win a free pass to our Photography 101 class! Oh, and don't worry, you don't have to answer the question correctly in your comment to win- ha!